FuzziLovies are Good for a Baby's Eyesight
Picture this: a friend or sibling is having a baby. You need a gift for the baby shower but all the ones at the store are kinda lame and, quite frankly, typical. That's what Beth Laws was confronted with over a year ago when she needed gifts for friends. Thus, FuzziLovies was born.
"I started sewing when I was ten-years-old; my mom taught me," said Beth. "At first it was how to repair my clothes, then I started learning how to make clothes." In 2004, she started making her own costumes, ushering herself into the world of cosplay, but we'll get to that later.
First, what is FuzziLovies? Predominantly, it is an Etsy store predominantly featuring assorted plush animal blanket hybrids. "My two favorite things growing up were my Raggedy Anne doll and my Care Bear blanket. When my first daughter was born I thought it'd be a good idea to combine them," said Beth. She goes on to explain the method of construction, which emphasizes high contrast of bold colors and patterns.
When babies are first born, they don't see very well; they're eyes are very unfocused. They always start out preferring blacks and whites because of the high contrast.
According to Babycenter.com, as well as just about every mother with a new baby, a baby's eyesight is a little blurry in the first month. By month two, the baby will have trouble distinguishing tones. "When babies are first born," said Beth, "they don't see very well; they're eyes are pretty unfocused. They always start out preferring blacks and whites because of the high contrast." For this reason, Beth tries to pick materials for her Lovies with as many bold colors as possible. "A lot of baby toys come in soft, pastel colors. They're not gonna see any of that. The toys might as well all be white."
For the next few months, [the baby's] brain's at work learning to distinguish colors. As a result, [the baby will] probably begin to show a preference for bright primary colors and more detailed and complicated designs. Encourage this development by showing him/her pictures, photos, books, and toys. For the next couple of months, [the baby will] also be perfecting his object-tracking skills. -Babycenter[dot]com
Beth sent me a FuzziLovie for an up-close look. She had one specially made inspired by one of my favorite comic book characters. Internet, meet Bat-pup.
Qualilty-wise, this little guy looks as if he were store bought. The stitching and overall construction of the plush head and arms are high quality. "I went to a few stores and looked at their plushes, see how they were made," said Beth, "From there I made my own patterns." And Bat-pup is so soft. It's like rolling around in a sea of fluffy bunnies. The standard size your average Lovey runs around 26 inches, the standard length of a newborn, but Beth also offers a few in an extra large size, which run up to a full yard. The following day, I took it to my three little nieces, ages 6, 5, and 11 months. All of them loved Bat-pup, especially the 11-month-old, my intended target. At first she was wary of a new object her size floating around, but once she started petting the fabric, she instantly clung to the new toy. At one point, we started playing Hide and Seek.
"Children seem to respond well to them," said Beth after reviewing some feedback from her Etsy store. "My own daughters use them as capes."
Beth's store may be a little geek light at the moment, but for a good reason, "I'm making my formal debut at New York Comic-Con with a few exclusives." Later this month, Beth's newest FuzziLovies designs will premiere at NYCC at the PopCycled Baubles booth, a store that "upcycles" comic books into jewelry and accessories.
Her exclusives include all four Teenage Mutant Ninja Turtles and a few Harley Quinns. So if you happen to find yourself at NYCC this year, be sure to check out the PopCycled Baubles booth 2761.
You'll notice in the FuzziLovies store that there are also Sailor Moon cosplay commissions. Yes, Beth sews Sailor Senshi outfits. "I've been making my own Sailor Senshi costumes since 2008. It was sort of trial by fire when I first started, but I'm definitely getting the hang of it." What stood out to me about these costumes compared to others is how precise some of the cuts are, namely Super Sailor Moon's bows and sleeves.
"On the bow, I really wanted to capture the butterfly look drawn in the anime. The edges are made with clear vinyl where I glued on the shear material, then I used bias tape and 16 gauge wire to accentuate the butterfly shape."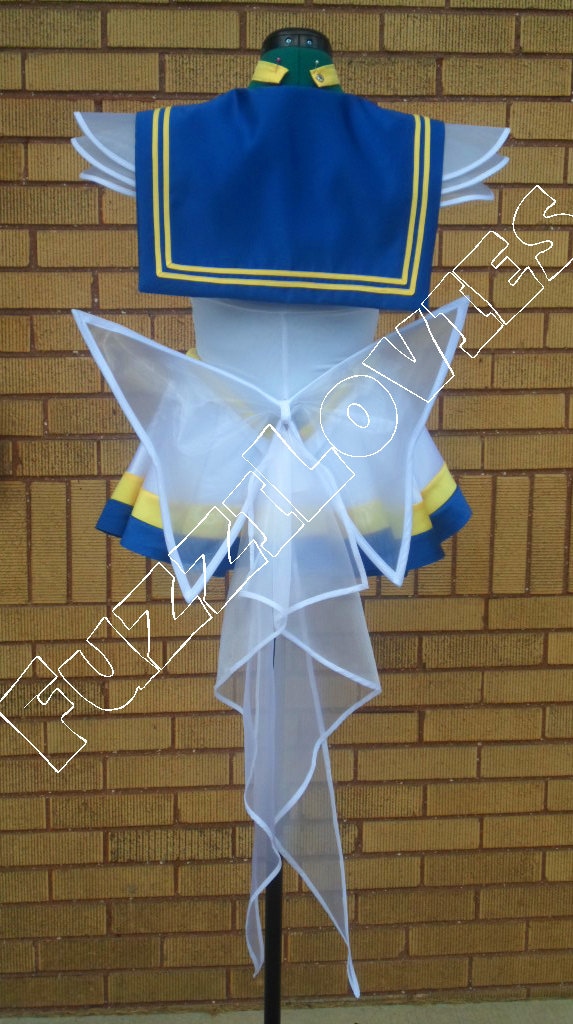 Beth's range doesn't stop at making Sailor Moon costumes, but it is her specialty. "I'm just waiting for suggestions, really," said Beth, "I'd love for someone to ask me to make Usagi's wedding dress; it's so beautiful. And there are a few looks from some of the Vocaloid characters that caught my eye. I'm just waiting for someone to give me a reason to make them."
UPDATE: To clarify on sizes, the maximum measurements Beth accepts for costume commissions are:
Bust: 52 inches
Waist: 40 inches
Hips: 47 inches